SHANNAN KEENAN
BIO
Born and raised in Wichita, Kansas, independent filmmaker Shannan Keenan had predicted her future at an early age when she announced that one day she was going to run off to Hollywood and make movies. Albeit quite a shocking statement for such a young lassie in the middle of the Bible Belt, no one thought too strongly about it. After all, she was going to be a veterinarian and the quarterback of the Denver Broncos as well.

Soon after she discovered that science was... well... hard, and her high school football team wouldn't let her play because she might hurt her reproductive organs, Shannan decided it was time to pursue that first dream for real and head west. Although, west to the father of an only child meant no more than 600 miles from home. So, Shannan found herself attending Colorado State University, studying television production and theatre. Four and a half years later, with a degree under her belt and an understandable fear of skiing, Shannan loaded up her VW Bug and inched her way to fame and glory... or at least a job.

Upon arriving to L.A., she landed a job in development for an animation studio. After climbing the corporate ladder from assistant to the illustrious position of "Creative Affairs Coordinator," Shannan finally found the light... or it found her. She was laid off. Suddenly finding that time she had been whining about that she didn't have before to write, Shannan and her computer had a much-needed date.

Realizing that her Kansas upbringing surely had to pay off somehow and that small town folk and murder do mix well, LOAVES, a dark comedy about bumbling cousins attempting to carry out an ill-fated murder plot, was born. Not having much patience for the Hollywood game, Shannan, with an unemployment check in hand and credit cards burning in the pocket, went off to independently finance, direct, and produce her first film.

After surviving the tortures of guerrilla filmmaking, Shannan was pleased to disprove some of those nasty filmmaking myths: you have to go to film school to make a film; there's no way in hell anyone can make a feature film for under $35,000; and all girl directors cry on the set.
LOAVES has received critical acclaim from independent film magazines such as Film Threat, and continues to screen at independent film venues across the country, most recently winning the Best Feature award in the Kansas International Film Festival in Kansas City.
Staying true to her Kansas roots, Shannan continues to write about Kansas people and their stories. Shannan's screenplay RANDY, about a soul-searching Kansas dishwasher hitching to Stevie Ray Vaughan's funeral, has been spotlighted in several prominent screenwriting competitions, including placing in the top 20 of a competition sponsored by Filmmakers Magazine. And RAMPER delves into the world of airline rampers as seen through the eyes of a middle-aged preacher's wife in Kansas. RAMPER was a finalist in several screenwriting competitions, including the Moondance International Film Festival.
Shannan's latest film project is TRAIL END, a poignant short film that follows a dying man and his old horse as they complete their last trail together in Kansas. TRAIL END has been awarded a fiscal sponsorship by The Kansas Connection, Inc. and will be shot entirely on location in Kansas in 2006.
Who the heck is Just Hank?
Just Hank was a national champion Appaloosa cutting horse. (Say that three times in a row!) Hank's spirit, determination, and prove-me-not attitude are the very essence of filmmaking and writing. It only seemed fitting to name this umbrella of dreams after an incredible being, human or not, who touched so many lives.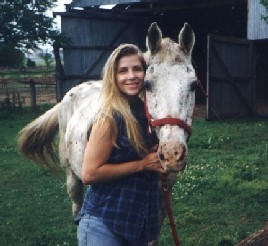 Just Hank
1970-1998